I must confess that I normally do very little - I much prefer lately to do clean and simple. But I'm glad Linda O. threw this challenge our way at
Outlawz Greetings Challenge group.
You know what, you should come peek in at all the inspiration and enter one of your own.
For this week (June 6) all you need do is emboss either wet or dry somewhere noticeable on your card and have a sentiment/greeting also. And best yet is we have a brand new guest designer returning for the month. I so enjoy working with all my friends on the Outlawz Greetings group, we all welcome Annika K. and you will be purely flabbergasted with all the work we've got planned in June.
And better yet is our wonderful sponsor Andrea Norris from SheepSki Designs! Read all about Andrea on our challenge post this week! http://outlawzchallenges.ning.com/group/monday-greetings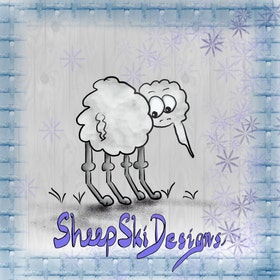 Prize: 3 images your choice
And for the month of June we have the return of a wonderful artist born in Sweden and
living in Norway -
ANNIKA SUSSAN KATARINA K.
GDT: Annica K.
USING: BABY FEET
And now here is my card also using an image from
Sheep Ski
- HUMPHREY WHISKERS
I've embossed the dp as well as the dies. I further sanded lightly the swiss dots in the dp.