WOW! Today is June 15 and we are very close to the first full day of summer! We've been having British type weather here in Southwest Wisconsin, so are looking forward to some hot dry days. This week we have 2 sponsors at OUTLAWZ GREETINGS CHALLENGE......Our one and only OUTLAWZ CHALLENGES FREEBIES GROUP is being highlighted by us to show you more of what Outlawz truly has to offer you.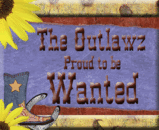 Prize - GINA K STAMP SET
This stamp set will be an instant prize (as in you don't have to wait for the monthly list) if you use a freebie and follow the theme. T
his does not affect the weekly winner prize given by Melonheadz (below). We will be doing this again later in the year also on another challenge.
Theme: Happiness is.........
My happiness truly is summer! There is so much one can do during the few months of summer we have, it's just a treasure to spend them outdoors.
I made 2 cards with the Melonheadz image...
Surfs Up
Wow, I found this darling little freebie on the Outlawz Freebie group (above) and of course
I always manage to find time to color up another card or SEVEN! with the Outlawz Progressive Freebie! (see below)
POPPY - Anne's Digital Stamps
Outlawz Progressive Freebie Challent
Come join us this week and try to win one of the 3 prizes!!!